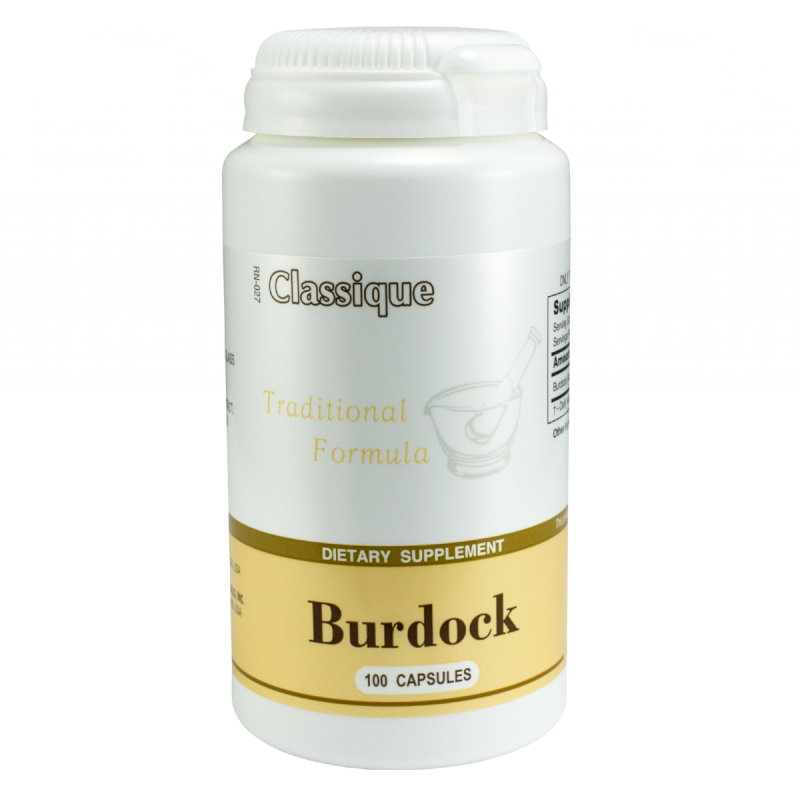  
Burdock, 100 caps
Obtained from the burdock root (Arctium m.) and helps regulate the balance of salt and water in the body.
Active Ingredients: Burdock (Arctium m.) root, gelatin, magnesium stearate, and silicon dioxide.
How to Use: As a dietary supplement take 2 capsules 3 times daily with a large glass of water, for 1 – 1.5 month.
Contraindication: Individual intolerance.
Presentation: 100 caps.
Garden State Nutritionals Inc., 8 Henderson Drive, West Caldwell, NJ 07006, USA.
No customer reviews for the moment.
16 other products in the same category:
Brand: Santegra
SANTEGRA® -ECHINACEA GP Ežiuolė, kuri įeina į kompanijos Santegra produktą Echinacea GP, nuo seno žinomas augalas, stimuliuojantis imunitetą, gamtinis antibiotikas. Ji padidina leukocitų kiekį kraujyje, skatina interferono – specifinio baltymo, saugančio ląsteles nuo virusų įsiskverbimo, gamybą. Šis augalas pasižymi stipriu priešuždegiminiu poveikiu.
Brand: Santegra
SANTEGRA®-NORWEGIAN KELP Efektyvus jodo deficito profilaktikos būdas-pakankamas kasdieninis jodo naudojimas.Deja daugelyje rajonų vanduo ir maisto produktai neturi sudėtyje pakankamo jodo kiekio. Kompanija Santegra siūlo Norwegian Kelp GP su garantuotu augalinės kilmės natūralaus jodo kiekiu.
Brand: Santegra
SANTEGRA®-Ultivit Kids Ultivit Kids – vitaminų ir mineralų kompleksas, sukurtas specialiai vaikams. Kruopščiai suderintoje preparato formulėje gausu vitaminų, mineralinių medžiagų. Užtikrina visavertį augančio organizmo aprūpinimą būtinomis maistinėmis medžiagomis, apsaugo nuo hipovitaminozės.
Brand: Santegra
SANTEGRA®-HYDRANGEA Santegra produkto Hydrangea EX sudėtį įeina hortenzijos šaknis (Hydrangea arborescens). Turinti teigiamą poveikį žmogaus organizmui – vandens- druskų apykaitos normalizacijai. 
Brand: Santegra
SANTEGRA®-GINKGO FORTE Ginkmedis – vienas iš labiausiai tyrinėjamų augalų. Ginkmedžio gydomąsias savybes pirmieji pastebėjo ir pradėjo tyrinėti Azijos šalių mokslininkai, nes ten jis vartojamas kaip efektyvi priemonė prieš senėjimą. Ginkmedis turi daug maistinių medžiagų, reikalingų organizmo sistemoms; ginkmedis - galingas antioksidantas, sulėtinantis...
Brand: Santegra
SANTEGRA® - FISH OIL GP Tik keleta Essential Fish Oil kapsulės per dieną aprūpina organizmą maisto medžiagomis, būtinomis gyvybiškai svarbių organų, širdies-kraujagyslių - kraujotakos sistemos funkcionavimui.
Brand: Santegra
SANTEGRA®-L.ACIDOPHILUS L.Acidophilus - tai acidofilinės bakterijos (Lactobacilus acidophilus), paprastai gyvenančios žmogaus virškinimo trakte ir reikalingos žarnyno normalios mikrofloros palaikymui.
Brand: Santegra
SANTEGRA® - Probiotic Complex Probiotic Complex® - unikali, bifidum bakterijų formulė, kurios sudėtyje 5 skirtingos bakterijų rūšys.Probiotinės bakterijos greitai atstato ir palaiko žarnyno mikrofloros balansą, stabdo patogeninių bakterijų augimą, skatina normalų virškinimą, padinina organizmoatsparumą.  
Reference: 0215
Brand: Santegra
Black walnut is a rich source of organic iodine, fluoride, iron, potassium, vitamins A and C, B-group vitamins, tannins, proteins, bioflavonoids.
Reference: 0212
Brand: Santegra
Powerful ingredients of Bee Royal promote natural and long lasting increase in energy levels in contrast to many energizers, which have fast but short-term effect.