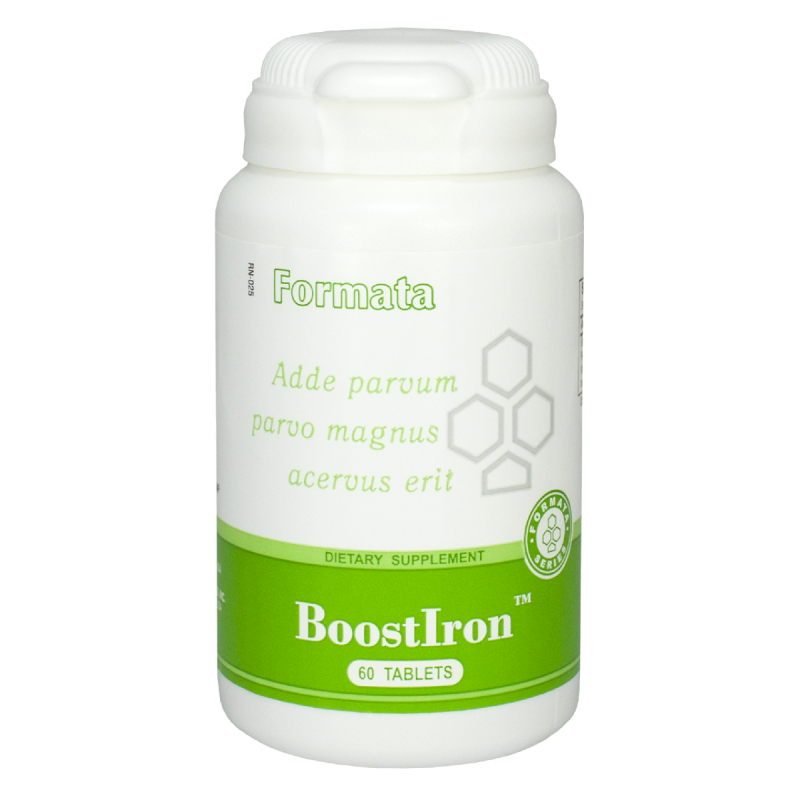  
BoostIron, 60 tab
Contain Carbonyl iron which in comparison to other forms of iron: it is NON-TOXIC, contains 98% pure iron and much less likely to cause constipation and diarrhoea.
Contains 10 mg of carbonyl iron, folate, vitamin B12 and vitamin C essential for the better absorption.
How to Use: Take one tablets daily preferably with meals.
1 (one) tablet contains:
Vitamin C (as ascorbic acid): 70 mg (116,7%)*
Folate (as folic acid): 200 μg (100,0%)*
Vitamin B12 (as cyanocobalamin): 3 μg (300,0%)*
Iron (as carbony iron): 10 mg (71,4%)*
Other Ingredients: Dicalcium phosphate, microcrystalline cellulose.
Contraindication: Individual intolerance.
Presentation: 60 tab.
Garden State Nutritionals Inc., 8 Henderson Drive, West Caldwell, NJ 07006, USA.
* Daily value
No customer reviews for the moment.
16 other products in the same category:
Brand: Santegra
SANTEGRA® - RED CLOVER FORTE Unikali vaistinių augalų formulė, salygojanti organizmo valymą, toksinų šalinimą iš kraujo ir ląstelių, o taip pat pagerina kepenų ir žarnyno būklę, normalizuoja jų darbą, stiprina imuninę sistemą, pagerina apykaitos procesus.
Brand: Santegra
SANTEGRA® - PAU D'ARCO Lapačio medžio eztraktas arba Skruzdžių medžių (Tabebuia impetiginosa) žievės ekstraktas įeinntis į  PAU D'ARCO stiprus imunomoduliatorius. Pagrindine savybė - galimybė mobilizuoti organizmo apsaugines jėgas.
Reference: 0212
Brand: Santegra
Powerful ingredients of Bee Royal promote natural and long lasting increase in energy levels in contrast to many energizers, which have fast but short-term effect.
Brand: Santegra
SANTEGRA®-SHIELDS UP ShieldsUp™ TR – unikalus kompanijos Santegra produktas – efektyvus galingų antioksidantų kompleksas.Pagrindinė medžiagą Resveratrolis.Ji randama vynuogių žievelėse bei kauliukuose.
Brand: Santegra
SANTEGRA® - OSTEO COMPLEX Osteo Complex ekskliuzyvinė formulė.Gliukozaminas stimuliuoja organizme kolageno gamybą. Kolagenas – tai ląstelinės medžiagos baltymo dalis, kuri laiko sąnarius kartu – tarsi sukabina juos.
Brand: Santegra
SANTEGRA®-EXCLZYME®EN Maisto papildas, sudarytas sisteminių enzimų pagrindu, medžiagų apykaitai ir virškinimui   Praturtintas bromelainu,rutinu, amlos vaisiaus vitaminais ir papainu. Sisteminiai enzimai – pirminė apsauga nuo uždegimo, pasižymi trombų susidarymą blokuojančiomis savybėmis.
Brand: Santegra
SANTEGRA®-ESSENTIAL C-CURITY Essential C – Curity – tai unikali vitamino C, PhytoZinc, bioflavonoidų ir dietinių indolų EnriDole 3-C® formulė, gauta iš natūralių šaltinių. Cinkas – vienas iš naudingiausių mineralų, jam stokojant sutrinka imuninės sistemos veikla, blogėja lytinė funkcija, taip pat ir kitų organų bei sistemų veikla.
Brand: Santegra
SANTEGRA®-PERFEM FORTE  Į PerFem Forte™ sudėtį įeinantys izoflavonai yra iš genetiškai nemodifikuotų sojos pupelių ir raudonojo dobilo ekstraktų.Kurie skirti moterims, kurios išgyvena naują gyvenimo etapą, vadinamą "menopauze".
Brand: Santegra
SANTEGRA®-Una de Gato GP Į produkto Una de Gato GP sudėtį įeina lianos šaknies žievės ekstraktas Uncaria tomentosa, produktai įeinantys į unkarijos sudėtį, gali padidinti organizmo apsaugines jėgas, sumažinti uždegimą, pasižymi antioksidacines savybėmis. 
Brand: Santegra
SANTEGRA® - Probiotic Complex Probiotic Complex® - unikali, bifidum bakterijų formulė, kurios sudėtyje 5 skirtingos bakterijų rūšys.Probiotinės bakterijos greitai atstato ir palaiko žarnyno mikrofloros balansą, stabdo patogeninių bakterijų augimą, skatina normalų virškinimą, padinina organizmoatsparumą.