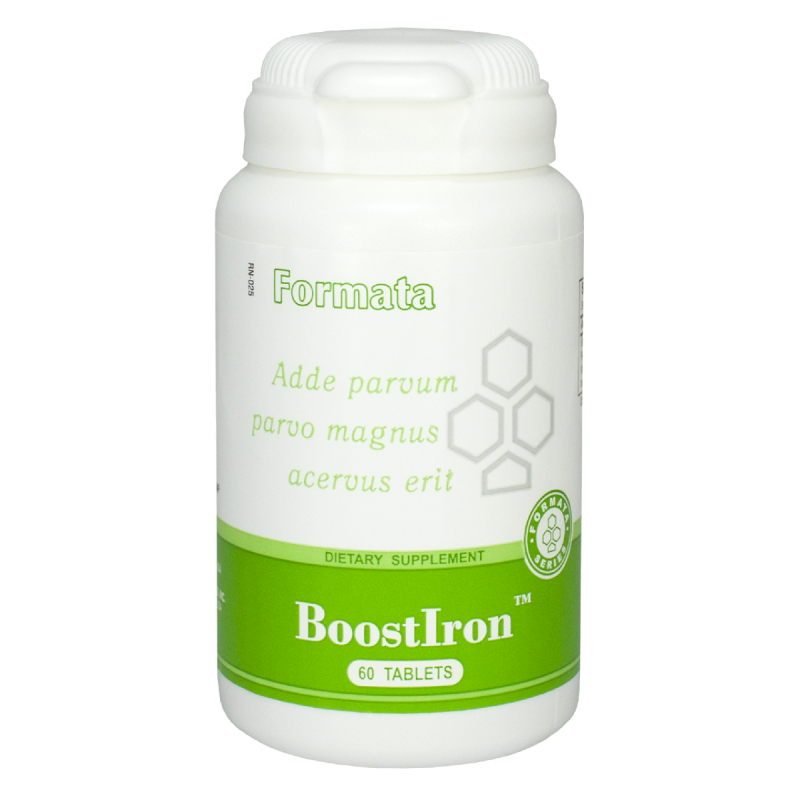  
BoostIron, 60 tab
Contain Carbonyl iron which in comparison to other forms of iron: it is NON-TOXIC, contains 98% pure iron and much less likely to cause constipation and diarrhoea.
Contains 10 mg of carbonyl iron, folate, vitamin B12 and vitamin C essential for the better absorption.
How to Use: Take one tablets daily preferably with meals.
1 (one) tablet contains:
Vitamin C (as ascorbic acid): 70 mg (116,7%)*
Folate (as folic acid): 200 μg (100,0%)*
Vitamin B12 (as cyanocobalamin): 3 μg (300,0%)*
Iron (as carbony iron): 10 mg (71,4%)*
Other Ingredients: Dicalcium phosphate, microcrystalline cellulose.
Contraindication: Individual intolerance.
Presentation: 60 tab.
Garden State Nutritionals Inc., 8 Henderson Drive, West Caldwell, NJ 07006, USA.
* Daily value
No customer reviews for the moment.
16 other products in the same category:
Reference: 0203
Brand: Santegra
Alfalfa contains the unique spectrum of vitamins and minerals.
Brand: Santegra
SANTEGRA®-LICORICE Rytų šalyse saldynmedį naudojo kaip bendrai stiprinančią ir tonizuojančią priemonę. Mūsų dienomis mokslininkams pavyko išskirti saldynmedžio šaknies aktyviąsias medžiagas – gliciriziną, glicirizino rūgštį, flavono glikozidus (likviritozidas), izoflavanoidus ir kt.
Brand: Santegra
SANTEGRA®-Una de Gato GP Į produkto Una de Gato GP sudėtį įeina lianos šaknies žievės ekstraktas Uncaria tomentosa, produktai įeinantys į unkarijos sudėtį, gali padidinti organizmo apsaugines jėgas, sumažinti uždegimą, pasižymi antioksidacines savybėmis. 
Brand: Santegra
SANTEGRA®-Ultivit Kids Ultivit Kids – vitaminų ir mineralų kompleksas, sukurtas specialiai vaikams. Kruopščiai suderintoje preparato formulėje gausu vitaminų, mineralinių medžiagų. Užtikrina visavertį augančio organizmo aprūpinimą būtinomis maistinėmis medžiagomis, apsaugo nuo hipovitaminozės.
Brand: Santegra
SANTEGRA®-HYDRANGEA Santegra produkto Hydrangea EX sudėtį įeina hortenzijos šaknis (Hydrangea arborescens). Turinti teigiamą poveikį žmogaus organizmui – vandens- druskų apykaitos normalizacijai. 
Brand: Santegra
SANTEGRA® - SANOPROST TR Unikalus produktas sukurtas specialiai vyrams, siekiant palaikytį ju sveikatą ir pagerinti gyvenimo kokybę.Sudėtyje yra liaudies medicinoje gerai žinomų vaistinių augalų:palmės vaisių, afriketiškų slyvų, didžiosios dilgėlės ekstraktai,kurie tradiciškai naudojami šlapimo ir lytinių organų sistemos sveikatos palaikymui.
Brand: Santegra
SANTEGRA®-NORWEGIAN KELP Efektyvus jodo deficito profilaktikos būdas-pakankamas kasdieninis jodo naudojimas.Deja daugelyje rajonų vanduo ir maisto produktai neturi sudėtyje pakankamo jodo kiekio. Kompanija Santegra siūlo Norwegian Kelp GP su garantuotu augalinės kilmės natūralaus jodo kiekiu.
Brand: Santegra
SANTEGRA®-PRIORI TEA PrioriTea- puikus efektingos unikalių senovinių receptų pavyzdys, išlaikęs laikmečių išbandymus ir apimantis paskutinius mokslo apie teisingą mitybą pasiekimus. Šiuos puikios formulės pagrindas - senosios indėnų genties odžibua gėrimo receptas. Manoma , kad šis gėrimas išvalo kūną ir sielą.
Brand: Santegra
SANTEGRA®-EXPRESS ESSENTIALS Mokslininkai nurodo ryšį tarp pernelyg didelio estrogeno kiekio ir tam tikrų krūties vėžio tipų. Buvo įrodyta, kad indolai, maistinės medžiagos, randamos kryžmažiedžių šeimos daržovėse: brokoliuose arba kopūstuose, yra labai veiksmingi, kontroliuojant "blogojo" estrogeno kiekį organizme.
Brand: Santegra
SANTEGRA®-GOTU KOLA Gotu Kola GP – puikus produktas, gaminamas iš azijinės centelės (Centella asiatika), daugiau žinoma kaip gotu kola. Šį augalą vadina "smegenų maistu" arba "atminties žole", tuo pačiu apsprendžiama jo pagrindinė savybė – smegenų kraujotakos pagerinimas.  
Brand: Santegra
SANTEGRA®-PASSION FLOWER GP PASSION FLOWER GP - puiki , naturali, raminanti priemonė kurios sudėtį įeina raudonžiedė pasiflora (Passiflora incarnata L.)