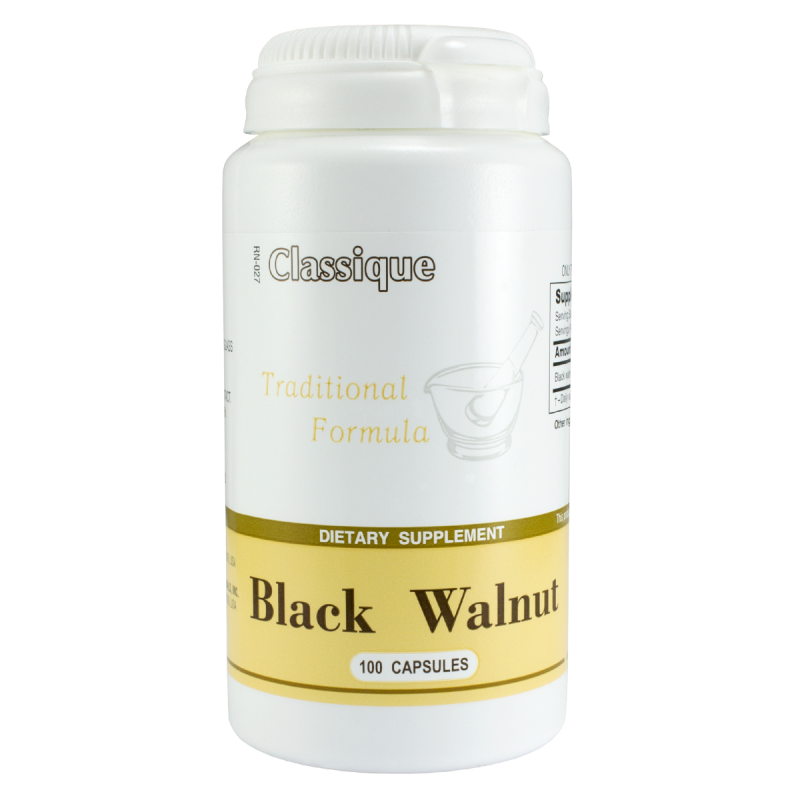  
Black Walnut, 100 caps
Black walnut is a rich source of organic iodine, fluoride, iron, potassium, vitamins A and C, B-group vitamins, tannins, proteins, bioflavonoids.
Contains a broad spectrum of vitamins and minerals. The combination of the unique old recipes with the latest achievements of nutritional science, it has been manufactured using high quality pure raw materials and the technology that ensures all their beneficial properties intact, in strict compliance with GMP and TÜV regulations.
Active Ingredients: Black walnut (Juglans nigra L.) hulls, gelatin, microcrystalline cellulose, magnesium stearate and silica.
How to Use: As a dietary supplement take 2 tablets 3 times daily with a big glass of water with meals for one month.
Contraindication: Individual intolerance, hyperthyroidism, thyrotoxicosis.
Presentation: 100 caps.
Garden State Nutritionals Inc., 8 Henderson Drive, West Caldwell, NJ 07006, USA.
16 other products in the same category:
Brand: Santegra
SANTEGRA®-CHLOROPHYLL GP Žodis "chlorofilas" kilęs iš graikiško žodžio chloros-žalias ir phyllon - lapas.Senovės graikai manė, kad chlorofilas yra vertingiausias natūralus produktas, ypač naudingas žmogaus sveikatai.
Brand: Santegra
SANTEGRA®-Ultivit Kids Ultivit Kids – vitaminų ir mineralų kompleksas, sukurtas specialiai vaikams. Kruopščiai suderintoje preparato formulėje gausu vitaminų, mineralinių medžiagų. Užtikrina visavertį augančio organizmo aprūpinimą būtinomis maistinėmis medžiagomis, apsaugo nuo hipovitaminozės.
Brand: Santegra
SANTEGRA®-PRIORI TEA PrioriTea- puikus efektingos unikalių senovinių receptų pavyzdys, išlaikęs laikmečių išbandymus ir apimantis paskutinius mokslo apie teisingą mitybą pasiekimus. Šiuos puikios formulės pagrindas - senosios indėnų genties odžibua gėrimo receptas. Manoma , kad šis gėrimas išvalo kūną ir sielą.
Brand: Santegra
SANTEGRA®-EXCLZYME®EN Maisto papildas, sudarytas sisteminių enzimų pagrindu, medžiagų apykaitai ir virškinimui   Praturtintas bromelainu,rutinu, amlos vaisiaus vitaminais ir papainu. Sisteminiai enzimai – pirminė apsauga nuo uždegimo, pasižymi trombų susidarymą blokuojančiomis savybėmis.
Reference: 0203
Brand: Santegra
Alfalfa contains the unique spectrum of vitamins and minerals.
Reference: 0212
Brand: Santegra
Powerful ingredients of Bee Royal promote natural and long lasting increase in energy levels in contrast to many energizers, which have fast but short-term effect.
Brand: Santegra
SANTEGRA® -ECHINACEA GP Ežiuolė, kuri įeina į kompanijos Santegra produktą Echinacea GP, nuo seno žinomas augalas, stimuliuojantis imunitetą, gamtinis antibiotikas. Ji padidina leukocitų kiekį kraujyje, skatina interferono – specifinio baltymo, saugančio ląsteles nuo virusų įsiskverbimo, gamybą. Šis augalas pasižymi stipriu priešuždegiminiu poveikiu.
Brand: Santegra
SANTEGRA®-HYDRANGEA Santegra produkto Hydrangea EX sudėtį įeina hortenzijos šaknis (Hydrangea arborescens). Turinti teigiamą poveikį žmogaus organizmui – vandens- druskų apykaitos normalizacijai. 
Brand: Santegra
SANTEGRA®-NORWEGIAN KELP Efektyvus jodo deficito profilaktikos būdas-pakankamas kasdieninis jodo naudojimas.Deja daugelyje rajonų vanduo ir maisto produktai neturi sudėtyje pakankamo jodo kiekio. Kompanija Santegra siūlo Norwegian Kelp GP su garantuotu augalinės kilmės natūralaus jodo kiekiu.
Brand: Santegra
SANTEGRA®-SHIELDS UP ShieldsUp™ TR – unikalus kompanijos Santegra produktas – efektyvus galingų antioksidantų kompleksas.Pagrindinė medžiagą Resveratrolis.Ji randama vynuogių žievelėse bei kauliukuose.
Brand: Santegra
SANTEGRA®-LICORICE Rytų šalyse saldynmedį naudojo kaip bendrai stiprinančią ir tonizuojančią priemonę. Mūsų dienomis mokslininkams pavyko išskirti saldynmedžio šaknies aktyviąsias medžiagas – gliciriziną, glicirizino rūgštį, flavono glikozidus (likviritozidas), izoflavanoidus ir kt.
Brand: Santegra
SANTEGRA®-PERFEM FORTE  Į PerFem Forte™ sudėtį įeinantys izoflavonai yra iš genetiškai nemodifikuotų sojos pupelių ir raudonojo dobilo ekstraktų.Kurie skirti moterims, kurios išgyvena naują gyvenimo etapą, vadinamą "menopauze".
Brand: Santegra
SANTEGRA®-ESSENTIAL C-CURITY Essential C – Curity – tai unikali vitamino C, PhytoZinc, bioflavonoidų ir dietinių indolų EnriDole 3-C® formulė, gauta iš natūralių šaltinių. Cinkas – vienas iš naudingiausių mineralų, jam stokojant sutrinka imuninės sistemos veikla, blogėja lytinė funkcija, taip pat ir kitų organų bei sistemų veikla.
Brand: Santegra
SANTEGRA® - SANOPROST TR Unikalus produktas sukurtas specialiai vyrams, siekiant palaikytį ju sveikatą ir pagerinti gyvenimo kokybę.Sudėtyje yra liaudies medicinoje gerai žinomų vaistinių augalų:palmės vaisių, afriketiškų slyvų, didžiosios dilgėlės ekstraktai,kurie tradiciškai naudojami šlapimo ir lytinių organų sistemos sveikatos palaikymui.