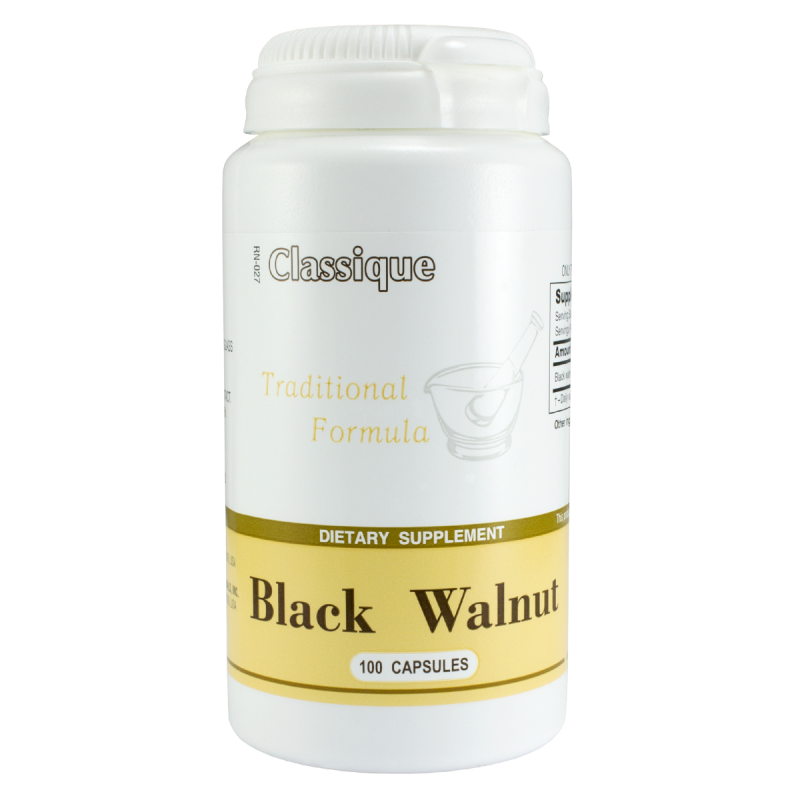  
Black Walnut, 100 caps
Black walnut is a rich source of organic iodine, fluoride, iron, potassium, vitamins A and C, B-group vitamins, tannins, proteins, bioflavonoids.
Contains a broad spectrum of vitamins and minerals. The combination of the unique old recipes with the latest achievements of nutritional science, it has been manufactured using high quality pure raw materials and the technology that ensures all their beneficial properties intact, in strict compliance with GMP and TÜV regulations.
Active Ingredients: Black walnut (Juglans nigra L.) hulls, gelatin, microcrystalline cellulose, magnesium stearate and silica.
How to Use: As a dietary supplement take 2 tablets 3 times daily with a big glass of water with meals for one month.
Contraindication: Individual intolerance, hyperthyroidism, thyrotoxicosis.
Presentation: 100 caps.
Garden State Nutritionals Inc., 8 Henderson Drive, West Caldwell, NJ 07006, USA.
16 other products in the same category:
Brand: Santegra
SANTEGRA®-PERFEM FORTE  Į PerFem Forte™ sudėtį įeinantys izoflavonai yra iš genetiškai nemodifikuotų sojos pupelių ir raudonojo dobilo ekstraktų.Kurie skirti moterims, kurios išgyvena naują gyvenimo etapą, vadinamą "menopauze".
Brand: Santegra
SANTEGRA®-PRIORI TEA PrioriTea- puikus efektingos unikalių senovinių receptų pavyzdys, išlaikęs laikmečių išbandymus ir apimantis paskutinius mokslo apie teisingą mitybą pasiekimus. Šiuos puikios formulės pagrindas - senosios indėnų genties odžibua gėrimo receptas. Manoma , kad šis gėrimas išvalo kūną ir sielą.
Brand: Santegra
SANTEGRA® - PAU D'ARCO Lapačio medžio eztraktas arba Skruzdžių medžių (Tabebuia impetiginosa) žievės ekstraktas įeinntis į  PAU D'ARCO stiprus imunomoduliatorius. Pagrindine savybė - galimybė mobilizuoti organizmo apsaugines jėgas.
Reference: 0203
Brand: Santegra
Alfalfa contains the unique spectrum of vitamins and minerals.
Reference: 0220
Brand: Santegra
Obtained from the burdock root (Arctium m.) and helps regulate the balance of salt and water in the body.
Brand: Santegra
SANTEGRA®-NORWEGIAN KELP Efektyvus jodo deficito profilaktikos būdas-pakankamas kasdieninis jodo naudojimas.Deja daugelyje rajonų vanduo ir maisto produktai neturi sudėtyje pakankamo jodo kiekio. Kompanija Santegra siūlo Norwegian Kelp GP su garantuotu augalinės kilmės natūralaus jodo kiekiu.
Brand: Santegra
SANTEGRA® - Probiotic Complex Probiotic Complex® - unikali, bifidum bakterijų formulė, kurios sudėtyje 5 skirtingos bakterijų rūšys.Probiotinės bakterijos greitai atstato ir palaiko žarnyno mikrofloros balansą, stabdo patogeninių bakterijų augimą, skatina normalų virškinimą, padinina organizmoatsparumą.  
Brand: Santegra
SANTEGRA®-EXCLZYME®EN Maisto papildas, sudarytas sisteminių enzimų pagrindu, medžiagų apykaitai ir virškinimui   Praturtintas bromelainu,rutinu, amlos vaisiaus vitaminais ir papainu. Sisteminiai enzimai – pirminė apsauga nuo uždegimo, pasižymi trombų susidarymą blokuojančiomis savybėmis.
Reference: 0212
Brand: Santegra
Powerful ingredients of Bee Royal promote natural and long lasting increase in energy levels in contrast to many energizers, which have fast but short-term effect.
Brand: Santegra
SANTEGRA® - OSTEO COMPLEX Osteo Complex ekskliuzyvinė formulė.Gliukozaminas stimuliuoja organizme kolageno gamybą. Kolagenas – tai ląstelinės medžiagos baltymo dalis, kuri laiko sąnarius kartu – tarsi sukabina juos.